Roasted Duck Breast from
Vendée,French, Apple & Mirin Salsa, and Stir-fried Seasonal Vegetables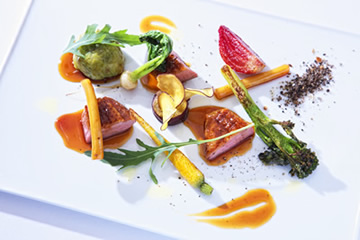 [Ingredients]
1 duck breast
100cc Sanshu Mikawa Mirin
200cc fond de veau
4 apples
Some granulated sugar, unsalted butter, and lemon juice
Small portion of seasonal vegetables (mekabu – thick wakame leaves–, stick senor, carrot, sweet potato, winter cabbage, beet, and burdock)
When using mirin for a sauce, boiling down the sauce first condenses sweetness and umami (flavor), which will result in a richer taste. Try it!
How to cook
1.
Clean the duck breast meat prior to cooking. After seasoning the meat, place the skin side down in a skillet.
2.
Place the apples on a pie sheet and sprinkle granulated sugar on them. Bake them at 180-degree (Celsius) in the oven for about 10 minutes.
3.
Cook the mirin in a saucepan on a low heat. Add the flesh of the baked apples and fone de veau and cook them down. Then place the duck breast in the saucepan and roast it like teriyaki chicken.
4.
Clean the vegetables and sauté them.
5.
Place the sliced duck breast meat and the vegetables on a plate and pour the sauce on them.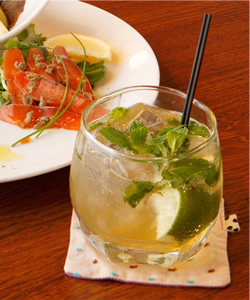 [Ingredients]
One serving
30ml Sanshu Mikawa Mirin
7 ice cubes
5cc mint syrup
12 mint leaves
120ml club soda
1/6 lime, sliced
How to cook
1.
Put ice cubes in a large glass, then add Sanshu Mikawa Mirin and mint syrup.
2.
Bruise eight mint leaves and drop into the glass. Stir the mix well.
3.
Add club soda and lightly squeeze lime and place it on the rim of the glass.
4.
Gently stir the entire mix, garnish it with the rest of the mint leaves, and insert a straw. Enjoy!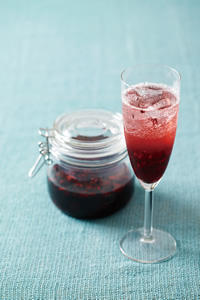 [Ingredients]
2 servings
300cc Sanshu Mikawa Mirin
10-15g rosehip tea
Some club soda
How to cook
1.
Soak rosehip tea in Sanshu Mikawa Mirin for a while.
2.
Pour the mix into a glass and add club soda if preferred. Enjoy!
Because mirin can be repurposed as liquor, you can enjoy it not only as a seasoning but as a beverage. You can make herb liquor just by soaking your favorite herb tea in mirin.
Mirin de Black Sesame Pudding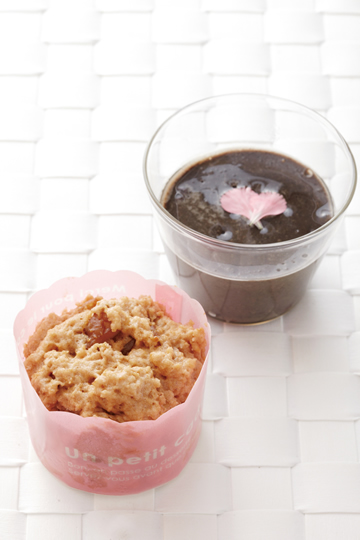 [Ingredients]
50cc Sanshu Mikawa Mirin
150cc soy milk
5cc powdered agar
2.5cc kudzu starch
15cc watar
15cc black sesame paste
How to cook
1.
Soak the powdered agar in water.
2.
Pour Sanshu Mikawa Mirin into a saucepan, bring it to boil to reduce its alcohol content, and keep boiling it down.
3.
Add the soymilk to the saucepan and after it starts to boil, turn off the stove and add the softened agar. Whisk it well, then add the kudzu starch diluted in water, and mix it even more.
4.
In a bowl put the black sesame paste and add the mix in 3. Stir it well.
5.
After letting it cool, pour it into a mold and refrigerate until it gets solid.